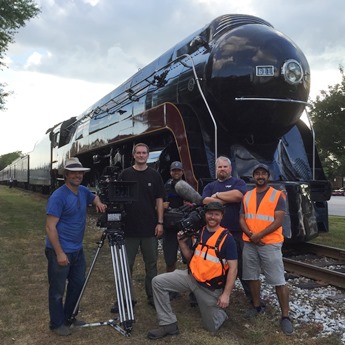 Rex Mitchell Teese
Executive Producer, Writer, Director and Editor
Teese began his film career as an apprentice in the editorial departments of the Ridley Scott films Hannibal and Black Hawk Down. In the 18 years that he has been working in film, he has worked in the editorial departments of several studio feature films and network television programs, including You Kill Me, Contraband, Mercy Street and Turn: Washington's Spies. He was also the Associate Producer of post production for the ESPN mini-series The Bronx is Burning. Teese has worked as a freelance editor for the National Geographic Channel since 2008. His film company, The Company Store, was created in 2013 and produces documentaries, concert films and short films.
Teese has a family connection to the Norfolk & Western Railway, Roanoke and the 611. His great-grandfather worked for the N&W for over 30 years. His grandfather, Rex T. Mitchell, Jr., was the director of Roanoke's Parks and Recreation department for many years and oversaw the formation of the Roanoke Transportation Museum in 1962. His mother was one of the first employees of the transportation museum, now the Virginia Museum of Transportation and home to the 611.
611: American Icon is Teese's directorial debut. Teese is a member of the Motion Picture Editors Guild.
Peg McGuire
Executive Producer, Writer
Peg McGuire is a writer and consultant with over 25 years of experience in marketing, corporate communications, media relations, copywriting, screenwriting and film production.
Throughout her career, she has produced and written corporate documentaries, promotional films and broadcast advertisements for a range of Fortune 500 clients including Enterprise Rent-A-Car, Reebok, Safety First, Millennium Pharmaceuticals, Putnam Investments and Textron Corporation. She has written for Saint Louis Magazine, the St. Louis Post Dispatch, Washington Post, Boston Globe, St. Andrew's Magazine and Ligourian Magazine.
McGuire was first introduced to the Norfolk & Western Class J 611 Steam Passenger Locomotive when she joined the Virginia Museum of Transportation as the Director of Communications in 2011.
Like millions of others, she soon fell in love with  611's beauty, power and majesty. While at the Museum, she helped launch the Fire Up 611! Campaign, and directed the marketing and media relations for 611's restoration, homecoming and first excursion season. She left the Museum in 2015 after the 611's first excursion season to spend time with her family and resume her consulting and writing career.
McGuire served as the Executive Producer and co-writer for 611: American Icon. She's proud to admit that she is now a bona fide rail fan. She is based in Roanoke, Virginia, where she lives with her handsome husband and two sons.
Ruben F. Rios, II
Field Producer
Ruben Flores Rios, II has worked in the film industry for over 23 years as a director, assistant director and producer. He has worked on documentaries, episodic television, commercials, industrials and feature films.  His credits include The Wire, Minority Report, Hannibal, Lincoln and The West Wing.
The directorial team for HBO's John Adams, of which Rios was a member, was nominated for a Directors Guild of America (DGA) award in 2009. In 2013, his team was again nominated for AMC's Killing Kennedy.  Rios is an 18-year member of the DGA. He is a member of the Virginia Production Alliance and has served on its board.
Rios lives in Richmond with his wife Allison and his children Maya, Delia and Nico.
J. L. Hodges
Composer
Hodges is Creative Director of Overcoast USA, an award-winning boutique Music Home based in London, UK, and Richmond, Virginia. Since starting Overcoast Music in the spring of 2012, he has been involved in producing/composing original music for independent films, TV commercials, viral web campaigns and even an app. Hodges has served as the creative director and music supervisor on projects both large and small. A graduate of Hampden-Sydney College, he has an extensive knowledge of music history and loves new music discovery.
Jason Parks
Director of Photography
Parks is a Director of Photography who specializes in shooting commercials, branded content and documentary films. He possesses the unique ability to light and shoot any format of film or video.
Parks has positioned himself as an invaluable creative commodity among agencies and production companies in the Mid-Atlantic and has traveled internationally working on a number of documentary films. He is highly versed in a variety of motion picture cameras, but more importantly, he has a thorough understanding of a wide range of grip and lighting tools and the unique ability to handle them himself or work through technicians.
His production background includes years of professional work as a camera assistant in commercials and in the feature films Bordertown and For the Love of Liberty. Parks also worked as an electrician with Steven Spielberg on his movie Lincoln and with Tom Hanks on the HBO mini-series John Adams.
While he currently resides in South Florida, Parks is originally from Richmond, Virginia. He graduated from Virginia Tech with a Bachelor of Arts in Communication Studies, Film and Media Theory in 2002.
Copyright 2016, Virginia Museum of Transportation, Inc.
™ All trademarks associated with the Norfolk & Western Class J 611 locomotive are trademarks of the Virginia Museum of Transportation, Inc.